True love sometimes means sacrifice
Marissa Byrne is satisfied with her life. She is in her forties, happily single, and a graduate student at a local college. So, when she gets hit on at a restaurant bar by a man young enough to be her son, she is flattered but definitely not interested. Unfortunately, she made a promise to her best friend that she would accept the next date offered her.
Finn is not what she expected. Sexy, gallant, and visiting from Ireland, he presents the perfect opportunity for her to enjoy a few dates and then move on. But then she falls head over heels for the man from across the pond.
What will she do when she realizes that loving him could destroy his happily-ever-after?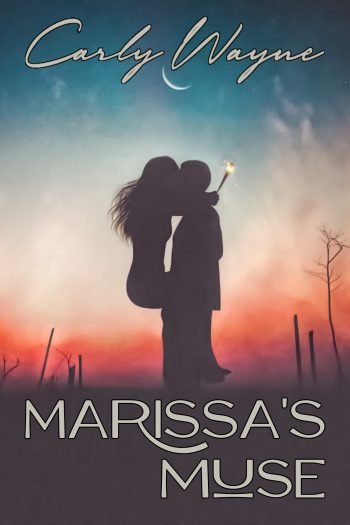 | Title | Series | Genre | Published | Pages | Words | File Size | ISBN |
| --- | --- | --- | --- | --- | --- | --- | --- |
| Marissa's Muse | n/a | Romance | July 19, 2020 | 114 | 40,002 | 2,452 kb | 9798522410254 |
Reading as Marissa meets and falls in love with Finn, eight years her junior at 38, is so heart-warming and beautiful. Their story has instantly become one of my favorites, and though I was given this e-book in exchange for an honest review, I just purchased a physical copy as well. I have to have this in my library.
.
This book had me laughing and crying and I HAD to know what was going to happen next and how it all would end.
.
Carly Wayne has truly written a wholesomely beautiful love story for the ages.
MARISSA'S MUSE is a feel-good contemporary story that proves age is just a number.
.
Marissa and Finn have a connection but Marissa is hung up on the age difference. Finn does his best but, in the end, caves into Marissa's feelings, especially when other things are involved too.
.
This book takes you from America to Ireland, all in the name of love..
.
A great read that I thoroughly enjoyed and have no hesitation in recommending.
I have to say I really enjoyed this book. Ms. Wayne tackles the idea of age differences in a relationship in a fun and refreshing way.

The main character, Marissa, goes from being intensely insightful to downright comical, making for a very likeable character and an enjoyable read.

I'm impressed that this is Ms. Wayne's debut novel. I can't wait to read more of her work.
Sights and Sounds that inspired
Sights
East Pier, Dun Laoghrie Harbor
Royal Marine Hotel, Dun Laoghaire
The Platinum House Theatre
Casa Marina Hotel, Jacksonville Beach
Sounds